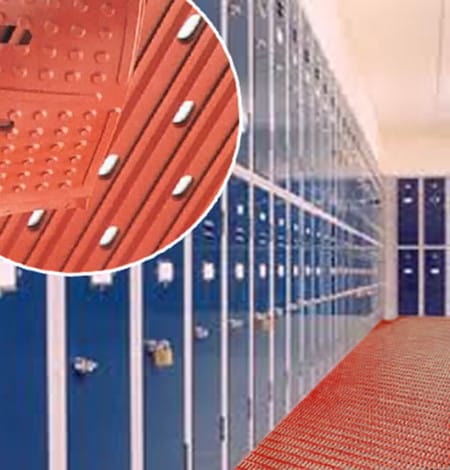 Reversible Locker Room Mats for Gyms
Overview
Application:
We believe that if you are attempting to get best products that scrape dirt and debris off the shoes and keep dirt off your floor. In addition, the locker room flooring mat has excellent drainage system and raised knobs that is used as an ultimate weapon against dirt and dampness.
Moreover, the locker room flooring mats help eliminate the danger of slip and fall accidents or humidity on your floors making them an excellent investment in safety and comfort.
Application:
Places where debris and dust are abundant
Efficient drainage technology
Features & Benefits
Long-lasting product for excellent results
Anti-slip surface technology thanks to its V rib design
Highly resistant to oil and grease
Lightweight and easy to handle
Easy to clean
Placements
We recommend using this mat on any indoor place.
Type 1631 SOLID NI-RIB – REGULAR
| | | | | | | | | |
| --- | --- | --- | --- | --- | --- | --- | --- | --- |
| Stock | Size | Weight | Approx. Lin. ft. per roll | Qty. 1 | Qty. 2 – 10 | Qty. 11 – 25 | Qty. 26 – 74 | Qty. 75+ |
| 104401 | 3′ x 9′ | 48 | 1 | | | | | |
| 104402 | 4′ x 9′ | 57 | 1 | | | | | |
| 104403 | 3′ x 18′ | 96 | 1 | | | | | |
| 104404 | 4′ x 18′ | 114 | 1 | | | | | |
Type 1631 SOLID NI-RIB – REGULAR (Special Sizes)
| | | | | | | | | |
| --- | --- | --- | --- | --- | --- | --- | --- | --- |
| Stock | Size | Weight | Approx. Lin. ft. per roll | Qty. 1 | Qty. 2 – 10 | Qty. 11 – 25 | Qty. 26 – 74 | Qty. 75+ |
| 104405 | 24" wide | 3.3 lin. ft. | $143 | | | | | |
| 104406 | 36" wide | 4.3 lin. ft. | $157 | | | | | |
| 104407 | 48" wide | 6.5 lin. ft. | $171 | | | | | |
Type 1631 PERFORATED NI-RIB
| | | | | | | | | |
| --- | --- | --- | --- | --- | --- | --- | --- | --- |
| Stock | Size | Weight | Approx. Lin. ft. per roll | Qty. 1 | Qty. 2 – 10 | Qty. 11 – 25 | Qty. 26 – 74 | Qty. 75+ |
| 104408 | 3′ x 9′ | 47 | 1 | | | | | |
| 104409 | 4′ x 9′ | 56 | 1 | | | | | |
| 104410 | 3′ x 18′ | 94 | 1 | | | | | |
| 104411 | 4′ x 18′ | 112 | 1 | | | | | |
Type 1631 PERFORATED NI-RIB (Special Sizes)
| | | | | | | | | |
| --- | --- | --- | --- | --- | --- | --- | --- | --- |
| Stock | Size | Weight | Approx. Lin. ft. per roll | Qty. 1 | Qty. 2 – 10 | Qty. 11 – 25 | Qty. 26 – 74 | Qty. 75+ |
| 104412 | 24" wide | 3.1 lin. ft. | $227 | | | | | |
| 104413 | 36" wide | 4.2 lin. ft. | $241 | | | | | |
| 104414 | 48" wide | 6.2 lin. ft. | $255 | | | | | |